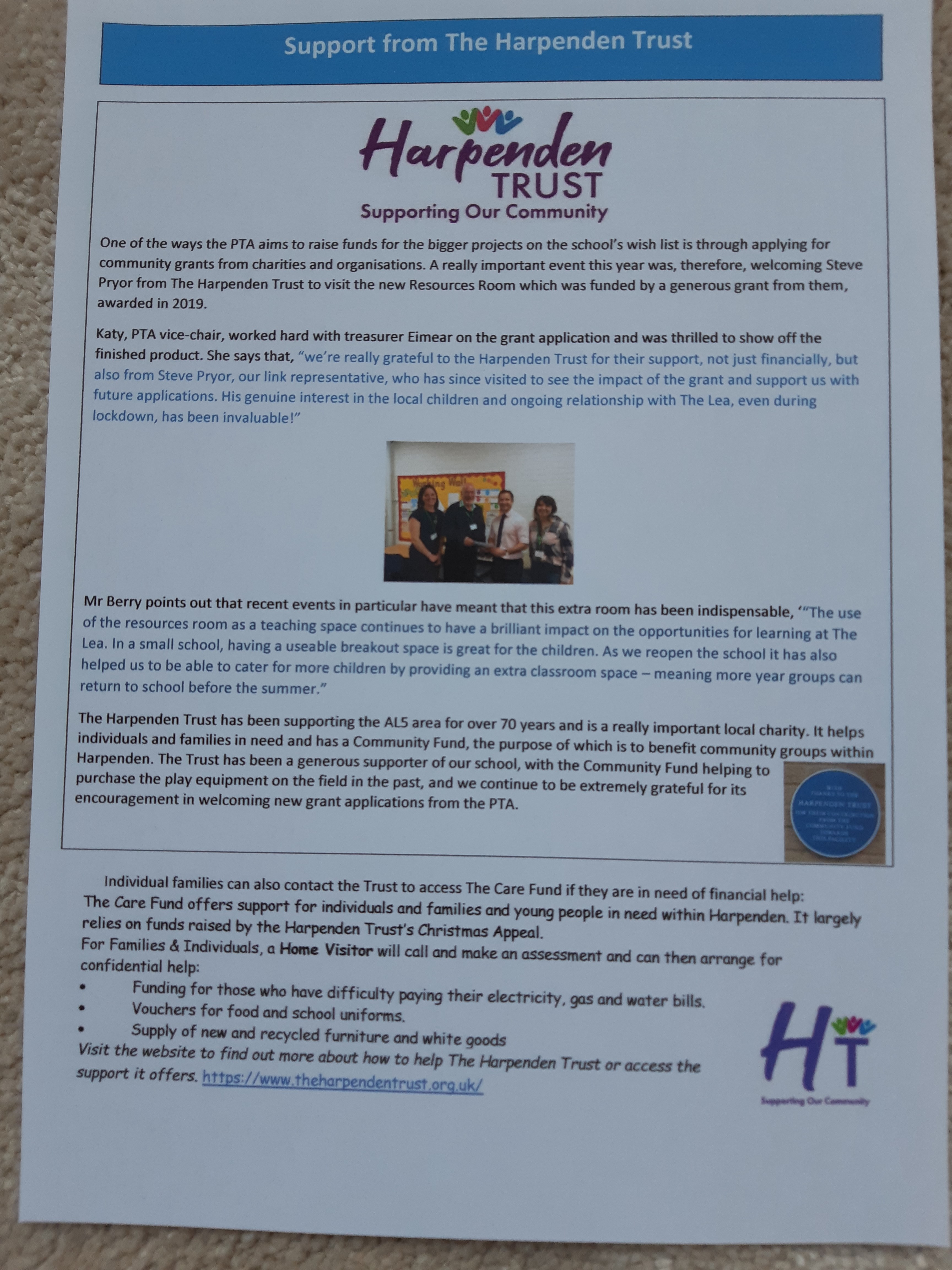 The recent end-of-term PTA News letter from The Lea Primary & Nursery School thanked the Community Fund of the Harpenden Trust for its support for the new Resources Room at the school:
"One of the ways the PTA aims to raise funds for the bigger projects on the school's wish list is through applying for community grants from charities and organisations. A really important event this year was, therefore, welcoming Steve Pryor from The Harpenden Trust to visit the new Resources Room which was funded by a generous grant from them, awarded in 2019.
Katy, PTA vice-chair, worked hard with treasurer Eimear on the grant application and was thrilled to show off the finished product. She says that, "we're really grateful to the Harpenden Trust for their support, not just financially, but also from Steve Pryor, our link representative, who has since visited to see the impact of the grant and support us with future applications. His genuine interest in the local children and ongoing relationship with The Lea, even during lockdown, has been invaluable!"
Mr Berry points out that recent events in particular have meant that this extra room has been indispensable, '"The use of the resources room as a teaching space continues to have a brilliant impact on the opportunities for learning at The Lea. In a small school, having a useable breakout space is great for the children. As we reopen the school it has also helped us to be able to cater for more children by providing an extra classroom space – meaning more year groups can return to school before the summer." The Harpenden Trust has been supporting the AL5 area for over 70 years and is a really important local charity. It helps individuals and families in need and has a Community Fund, the purpose of which is to benefit community groups within Harpenden. The Trust has been a generous supporter of our school, with the Community Fund helping to purchase the play equipment on the field in the past, and we continue to be extremely grateful for its encouragement in welcoming new grant applications from the PTA."
22 July 2020