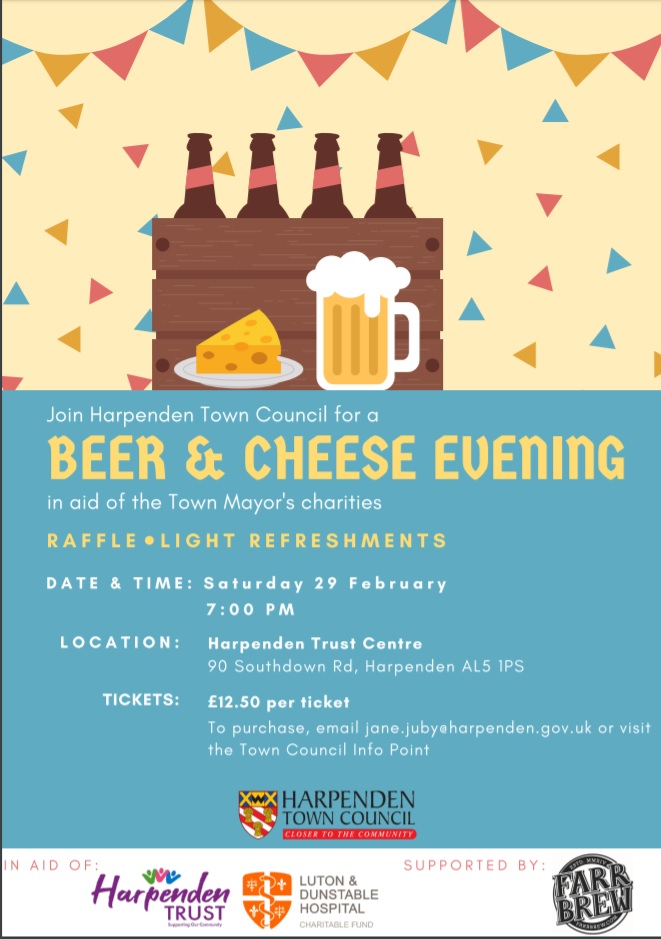 In aid of the Town Mayor's Charities - the Harpenden Trust and Luton & Dunstable Hospital - Harpenden Town Council is hosting a Beer & Cheese Evening on Saturday, 29 February 2020, at 7.00 pm. The Evening includes beer from local brewery Farr Brew and a raffle and light refreshments.
The Evening will be held at the Harpenden Trust Halls, 90 Southdown Road, Harpenden, AL5 1PS.
Tickets for the Evening are available from the Town Council Info Point or by emailing [email protected], for £12.50 per ticket.
(Note: Farr Brew was the first brewery to open in Harpenden for over 100 years. Due to expansion, in 2016 Farr Brew had to move just down the road to Wheathampstead where they offer beer tastings, brewery tours and a fully stocked tap room and bottle shop - all within the beautiful rural setting of the Ayot Estate.)
06 January 2020